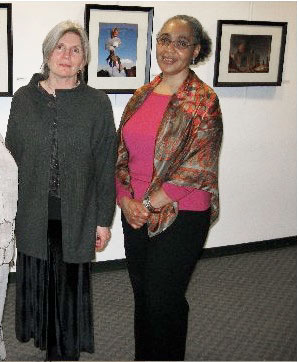 Sonja Ahuja of Weston, former member of the Weston Commission for the Arts and Dennis Bradbury, Director of Haviland Street Gallery in South Norwalk will serve as curator and juror of Visual Poetry in Photography.

Visual Poetry in Photography Exhibit Opening in Weston

Professional and avocational Weston photographers' work as well as a few surprise guest photographers work will be featured in an exhibit titled "Visual Poetry in Photography." Visual poetry is a movement in the art world in which the subject of the art piece or the media itself is manipulated so as to invite the viewer to interpret the work with more than one of the senses. The show will on view in the Community Room of the Weston Public Library March 28 through April 24. An opening reception to which the public is cordially invited to meet the artist-photographers will be held Saturday, March 28, 7-9 PM.

The exhibit is sponsored by the Weston Commission for the Arts. Sonja Ahuja, Weston resident and former member of the commission, is the curator. Dennis Bradbury of South Norwalk will be the juror.

Sonja Ahuja is a consultant to non-profit organizations specializing in collaborative development and program innovation.
From 2004 to 2008, Sonja Ahuja produced "Festival of Words" multicultural book author and storytelling events at Norwalk Community College involving a diverse line up of authors, live storytelling, musical and poetry performances, workshops and shop exhibits. The event is being planning again for 2010.

Ms. Bradbury is the Director of South Norwalk's 22 Haviland Street Gallery. During the past five years she has independently curated thirty-seven exhibitions of work in a variety of mediums by more than three hundred fifty artists, and has presented thirty-three cultural and educational fundraising events at the gallery.

She has worked professionally as a photographer during a twenty-five year career that included wedding, public relations and events photography, and positions as Staff Photographer for New Haven and Fairfield County Newspapers, and as Senior Photographer at Educational Directions, Inc. for The Learning Tree Corporation.

Bradbury was Co-Founder of Spectrum Photography Gallery in Tucson, Arizona where she was also an instructor. She taught photography at the Cultural Arts Center in British Columbia, Canada, was an art and photography teacher at the Horizons Summer Youth Program in New Canaan, CT., and taught photography at New Canaan's Photographics Workshop and in the Adult Education Program in Stamford, CT.

When she first came to Norwalk Ms. Bradbury was granted an artist in residency by the Arts Council of Norwalk, and presently she is serving on the Mayor's Advisory Commission on Arts and Culture. As chair of its Visual Arts Committee she helped install the work of thirteen artists in Norwalk's storefront "Art Showcase: Public Art Project" this past September, and in October she was invited by the CT. Commission on Culture and Tourism to submit nominations of local artists for inclusion in the Commission's distinguished Connecticut Artists Collection.

The exhibit, sponsored by the Weston Commission for the Arts, will be on view in the Community Room of the Weston Library March 28-April 24. Both Weston photographers and guest photographers will be featured. The public is cordially invited to attend the gala reception Saturday, March 28, 7-9pm.